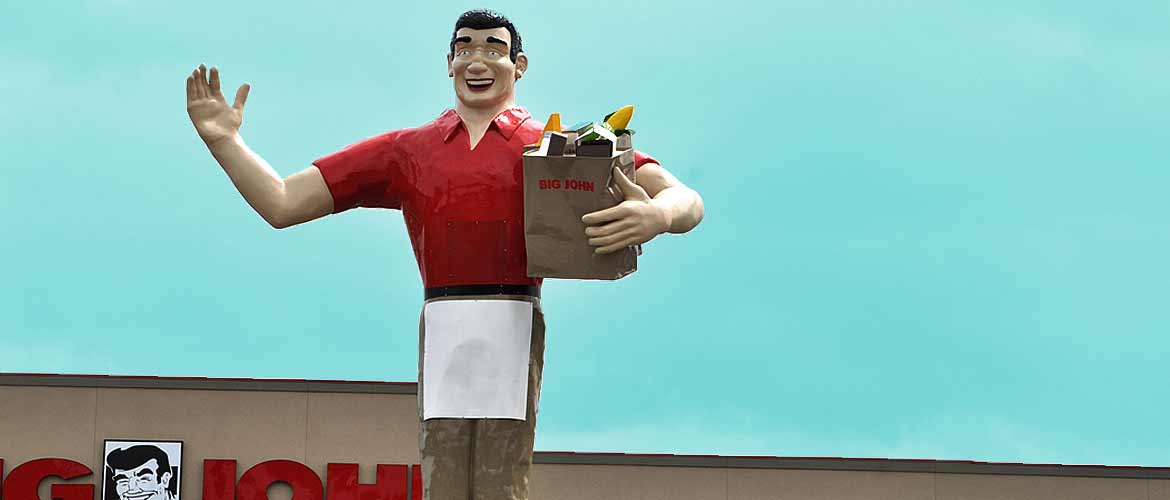 In front of our store stands a very large statue of a man holding groceries. Back in the 60's the owner of Big John's wanted something to symbolize hard working Southern Illinois people. He came up with the statue, representing the coal mining industry that was the driving force in Southern Illinois at that time. It relates to the song, "Big Bad John".
Metropolis also has the Superman statue up on the town square. Tourists stop and take their picture with Big John on their way to the Superman Statue.

Grocery Department
We offer comparable prices with a huge variety of groceries stocked daily. Big John's offers a sugar free specialty section for those with special need diets and gluten free items as well. Big John's grocery department offers ten isles, 20 end caps and an enormous deal wall for all your grocery needs. If you don't find what you are looking for, don't hesitate to ask a Big John employee for help. If we don't have it, we will do our best to see if our warehouse carries it and order it in for you.

Frozen Department
Visit our frozen foods department for a wide variety of prepared meals, vegetables, fruits, ice cream and many more items. We offer 79 doors of frozen items to accommodate any appetizer, meal or dessert need you may have. You won't have to look anywhere else for your frozen food needs.

Dairy Department
Big John's dairy department strives to keep our customers happy with offering a variety of 27 yogurt flavors that will definitely keep you coming back for more. Our milk by Prairie Farms or Country Fresh comes in a variety of sizes and combinations to fit your families need. We offer lactose free milk and much more in Big John's dairy department. Check out Big John's dairy department for all our selections of cheeses, yogurts and all your other dairy needs.

Meat Department
We are constantly looking for new ideas and products to meet your needs. The meat department at Big John's has over 30 years experience and we are always available to get you that special cut of meat. With a Butcher on hand daily, we can offer you specialty cuts and answer any questions you may have regarding our products. We grind our own Black Angus ground beef and ground chuck fresh every day. Our meat department also meets your needs with fresh shrimp, talipia, cat fish, frog legs and more in our frozen cases. We also offer a Pick 5 program that can be found in our island cases. Our meat cutting room is refrigerated and sanitized daily to ensure the highest quality of meat. Big John's believes you must be 100% satisfied with your meat purchase and we "guarantee it". Big John's meat department is a "Cut Above the Rest.

Purchasing Tips
Black Canyon® Angus Beef is packaged for freshness at your local store. When possible, you should make your Black Canyon selection last just prior to checking out. Your beef should be placed in the coolest location of your car, and transferred to your refrigerator or freezer with in 30 minutes of purchase.
Storage Tips

Ground Beef
Black Canyon fresh ground beef may be stored in a refrigerator for 1-2 days prior to cooking, or you may freeze your ground beef for 3-4 months. Be sure to place ground beef for freezing in "freezer-proof" packaging to avoid "freezer-burn" or a loss of quality.

Fresh Cut Beef
Fresh cut Black Canyon Angus Beef may be stored in a refrigerator for 2-4 days prior to cooking, or you may freeze your fresh beef for 6-12 months. Be sure to place ground beef for freezing in "freezer-proof" packaging to avoid "freezer-burn" or a loss of quality.

Defrosting Tips
Bacteria multiply rapidly between 40°and 140° Fahrenheit. Improperly thawed Black Canyon Beef or other meats may allow for bacterial contamination. To avoid possible issue from bacteria, Black Canyon Beef should always be defrosted in either the refrigerator or a microwave. Additionally, anything that comes in contact with your meat should be kept clean. Always wash contact surfaces and utensils with hot soapy water before and after food preparation.

Cooking Tips
Black Canyon Angus Beef should always be cooked using proper methods to ensure a safe delicious taste. Ground beef should be cooked to a minimum of 160° internal temperature. Fresh beef cuts should be cooked to 145° for medium rare, 160° for medium, or a 170° for well done. While many beef cuts are particularly tender when slow-cooked, you should avoid cooking at temperatures below 325° to avoid encouraging bacterial growth. Additionally, beef should never be partially cooked and then finished cooking later as this may encourage bacterial growth and contamination. Always serve meat using a different platter and utensils than were used for food preparation or cooking to avoid contamination. Freeze or refrigerate any leftovers immediately. Cooked meat or other perishable foods should not be left at room temperature for more than two hours.

Produce Department
As the seasons change so does our produce department. Upon availability we offer a wide variety of the freshest fruits and vegetables. We also offer a "convenience" section i nour Produce Department for time-pressured consumers. The offerings in the Produce Department are good examples of "value added" products. So many items have been introduced over the last few years that special refrigerated display cases have been designed to properly display these products and store them short-term. For a great gift idea, Big Johns Produce Department will put together a fruit basket as a gift to someone special, but you can also put together a true personalized gift yourself, featuring fresh produce items, with just a little time and imagination. We support the Country of Origin program and it is displayed on every product or beside the price of each product. When our produce associates are checking through the fresh produce, the room they are working in is slightly cooler than room temperature. This may mean a little higher utility bill for the store, but the produce is fresher for you.

Bakery Department
Big John's Bakery department strives to exceed expectations in providing pastries, breads, cookies, pies and custom designer cakes. The Big John's bakery associates provide goods that are baked fresh daily and items provided by top name vendors. With advanced technology, cakes can present any image desired and decorations according to the shoppers liking with only one day notice. In order to please all shoppers, Big John's smiling bakery staff takes interactive steps with every inquiry to provide goods that meet or beat the expectations of every shopper.

Deli Department
Big John's Deli department offers fast, friendly, knowledgeable service and a variety of lunch meats, cheeses, salads, desserts and ready-to-eat hot food. Top quality name brand cold cuts, meats and cheeses such Kretchmer, Hoffman's, Orval Kent, Field, Sara Lee, Wilson, Willowbrook, Cedar Hollow and Eckrich are available in a wide assortment of flavors from cheddar to muenster cheeses and honey cured ham to Cajun style roast been.The deli department at Big Johns also provides prepared hot food and salads for those on the go. Rotisserie chickens are cooked daily, juicy and delicious. The grab and go cold case is also full of many different lunch, dinner and dessert items conveniently placed near our dairy department. Hoople's and Resers are just a couple of the top quality name brands that produce the wide array of meat salads and fruit ambrosia salads available at Big John's deli.